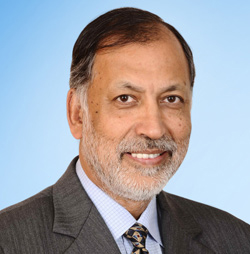 Speaker
Rajendra S Pawar
Chairman & Co-Founder, NIIT Group
Founder, NIIT University
Rajendra S Pawar is the Chairman and Co-Founder of the NIIT Group, comprising NIIT Limited, a global leader in skills and talent development, and NIIT Technologies Limited - a global IT solutions organization. Under his leadership, NIIT has played a key role in shaping the growth of the Indian IT sector, by creating skilled manpower to drive its momentum. Having revolutionized the IT Training industry, he is now involved in establishing an innovative model in higher education, the not-for-profit NIIT University.

Acknowledging Rajendra's contribution to the IT industry in India, he has been awarded the country's prestigious civilian honour, Padma Bhushan, by the erstwhile President of India in 2011. Actively involved in India's key Chambers of Commerce, he has also led several ICT industry initiatives including MAIT as its President (1990-92) and NASSCOM as its Chairman (2011-12).

Rajendra's contributions have been widely acknowledged and he has been conferred prestigious awards including 'Distinguished Alumnus Award' by IIT Delhi (1995), 'IT Man of the Year' by IT industry journal Dataquest (1998), 'Madhav Award' by the Scindia School (1999), and 'Master Entrepreneur of the Year' by Ernst & Young (1999) among others.

He has been a part of Prime Minister Vajpayee's National Taskforce (1998), commissioned to develop India into an IT Superpower and has served as a member of Prime Minister Manmohan Singh's National Council on Skills Development (2009-2014). Mr Pawar is currently the Chairman of NASSCOM Cyber Security Task Force that has been set up in response to Prime Minister Narendra Modi's call to see India emerge as a global hub of Cyber Security Products and Services.

Rajendra is a Fellow of the Computer Society of India, the National Telematics Forum as well as The Institution of Electronics and Telecommunication Engineers (IETE).